Crypto traders are always looking for the best deal whenever they choose to buy and sell their digital assets.
Now however, rather than just savings a few dollars on the transaction traders are earning huge guaranteed profits with a new feature that has been introduced by ArbiSmart (RBIS).
While their flagship service is crypto arbitrage, among other things, the popular financial services hub also offers exchange tools for both FIAT and crypto.
A Bit About ArbiSmart
ArbiSmart, established in early 2019, is an EU authorized, fully automated crypto arbitrage services platform. It guarantees annual profits, on both FIAT and crypto, of up to 147% a year, higher than any other licensed crypto arbitrage competitor.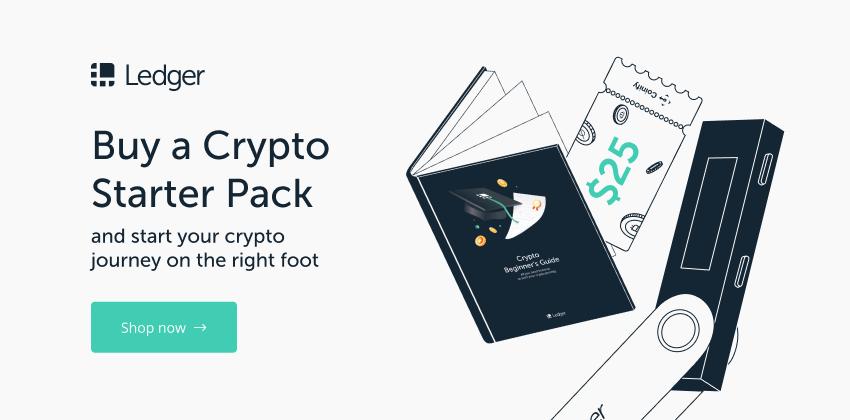 You just deposit funds and pick an arbitrage investment plan, where funds are locked and used to trade crypto arbitrage on your behalf. The plans can be in any of the 30 currencies supported by ArbiSmart, and will be for varying lengths of time ranging from 1 month to 5 years, earning higher profits, the longer the contract.
The automated system takes it from there. Connected to nearly 40 exchanges, it monitors hundreds of coins, day and night, looking for brief instances where a cryptocurrency is available, across exchanges, at different prices at the same time. It can execute a massive volume of transactions simultaneously, and every time it identifies a price disparity, it buys the coin wherever the price is lowest and then sells it wherever the price is highest to make a profit on the spread.
Profits remain consistent, whichever direction the market moves, and can be calculated in advance of making a deposit.  They are based, primarily, on your account status, which is determined by how much RBIS, the native token that you own. If you choose to not hold any RBIS you can still earn a passive profit with an arbitrage investment plan, but more RBIS translates to higher profits on plan balances in EUR, BTC, or any other supported FIAT or crypto currency. If the locked balance is in RBIS, you will earn an even better APY.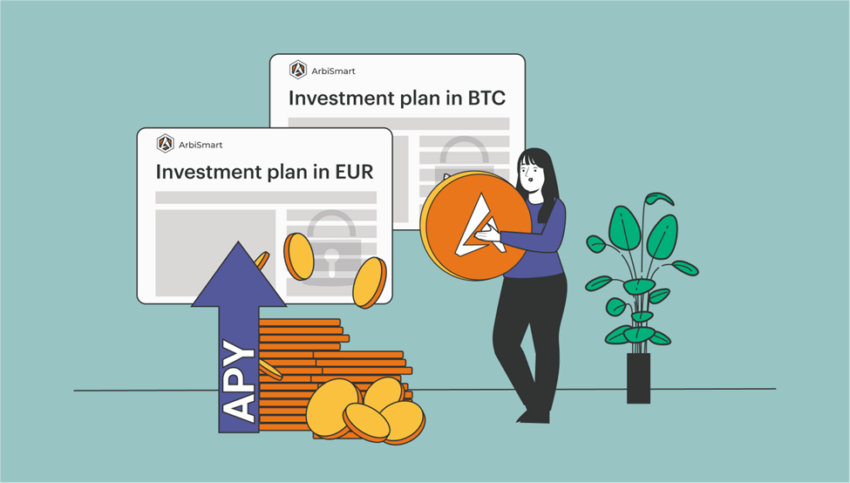 ArbiSmart also offers exchange services, with unique reward features that we will look at in more detail in a moment. In addition it is adding new services next quarter, including an NFT marketplace and a first-of-its-type DeFi protocol which offers gamification features to increase yield farming profits through the use of ArbiSmart NFTs.
Now we know a little about ArbiSmart in general, let's specifically dig into the buy and sell features that enable you to get a 50% discount on a currency purchase or earn 10 times the market value on a sale.
Buying Currency via the Exchange
Any time you buy either crypto or FIAT, via the ArbiSmart exchange, you can get up to 50% off the price of the currency you are purchasing.
Every time you pick a currency to buy, a number of discount options, ranging from 10% to 50%, will be presented on the screen before you make your purchase, and each one will require different conditions to be met. 
These include a minimum purchase amount, as well as a vesting period, which will be longer, the higher the discount. In some cases, conditions also include locking a certain amount RBIS until the vesting period is complete.
For example, if you decide to buy $2,000 worth of Bitcoin, at a 25% discount, then you will only pay $1,500 for your BTC. The full $2K worth of Bitcoin will be immediately credited to your balance, though you will only be able to withdraw it at the end of the vesting period.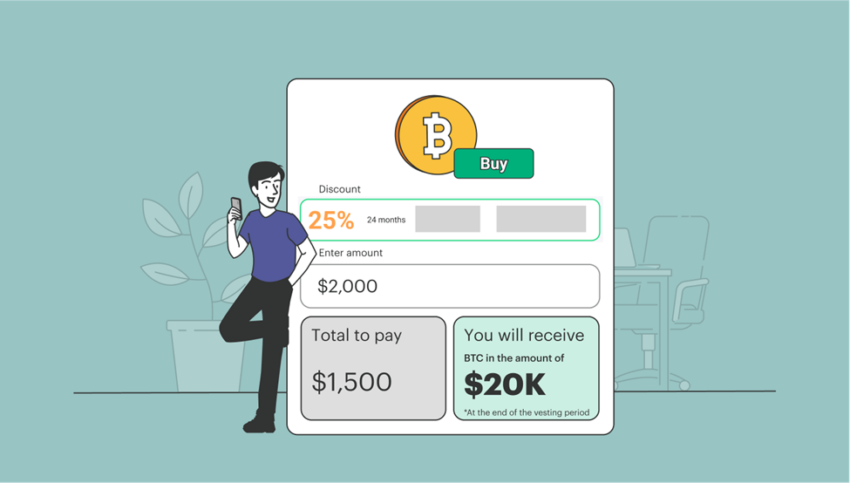 Selling Currency via the Exchange
Preferential rates are also offered when you sell crypto through the ArbiSmart exchange. If you choose to profit from the sell function, whether the market is bullish or bearish, you will receive exactly 3 times the market value of your Bitcoin, or Ethereum.
On all 25 cryptocurrencies supported by ArbiSmart, you will receive triple the market price, except for the native token, RBIS, on which you will receive 10 times the market price.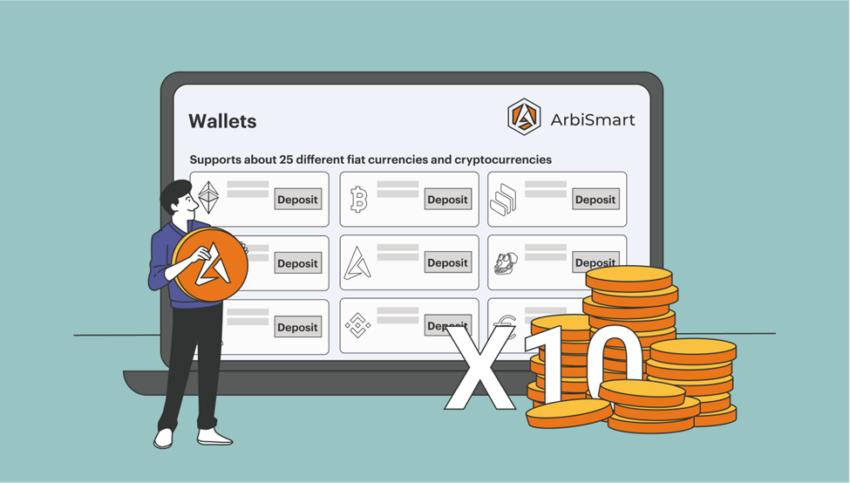 Imagine that tomorrow, ApeCoin collapsed, dropping to half its current price. You would then be able to sell it on the ArbiSmart exchange and ensure your APE did not lose any further value. In fact, rather than experiencing a loss on the trade, you would actually be making a profit, locking in triple the current price.
If you are worried the price will more than triple during the vesting period, then you can hedge and simply sell a portion of your coins.
Eligibility for the higher sale rate depends on two conditions – a 24-month vesting period and a minimum sale amount, which is different for each digital asset.
So, if for example, you decide to sell $700 worth of Bitcoin, your balance will be instantly credited with $2,100 worth of BTC, which can be withdrawn 24 months later. If however, you choose to sell $700 worth of RBIS, $7,000 worth of the native token will be credited to your balance and become accessible at the end of the vesting period.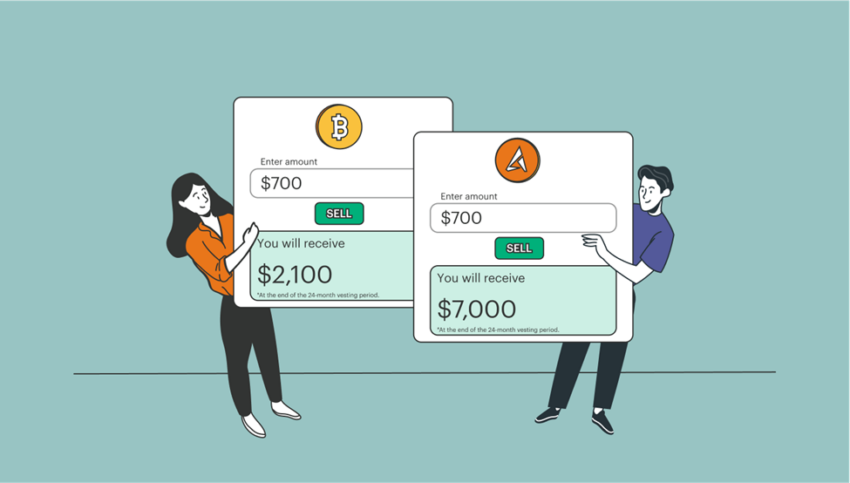 It isn't surprising that many traders are using this new exchange capability to profit from a second type of arbitrage, which this time is manual. They are buying RBIS on other exchanges and then selling it via the ArbiSmart exchange for up to X10 profit, guaranteed.
Both the buy and sell functions on the ArbiSmart exchange, assure a profit, whichever direction the market is moving.
Ready to earn 60K on your Bitcoin?  Sign up with ArbiSmart, right now!
Notice: this article was not written by BeInCrypto team and should not be considered as an investment advice.
Disclaimer
Any third-party hyperlinks and banners don't constitute an endorsement, guarantee, endorsement, warranty, or recommendation by BeInCrypto. Cryptocurrencies are highly volatile. Do Your Own Research before using any third-party services or considering any financial action.