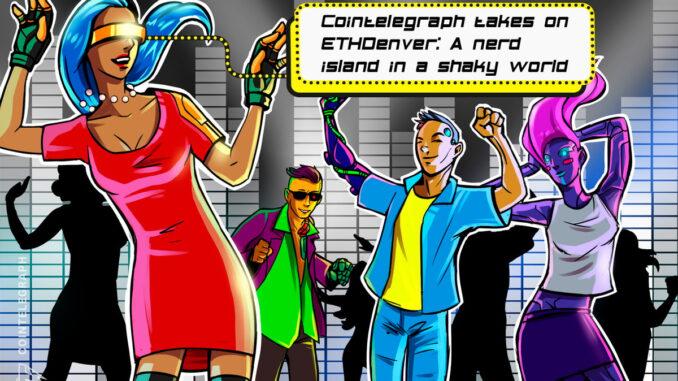 On this episode of Decentralize with Cointelegraph, United States policy reporter Turner Wright and opinion editor Rudy Takala speak to listeners about their experiences at the ETHDenver conference from Feb. 24 to March 5. Wright arrived in time to interview industry experts, check out a "hacker house" and watch developers go through BUIDLWeek. Takala talks about the highlights of ETHDenver and how it compared with, in his opinion, better-organized conferences.
The topics discussed by Wright and Takala include the logistics of traveling between different venues at ETHDenver and other events held the same week, the general vibes among participants on various panels, and how the weather and altitude affected the experience of the two writers traveling from Texas and Florida. Takala also attended Cointelegraph's afterparty on March 3.
"I will say, it was a packed house," said Takala. "It was wall-to-wall in the bar they had it hosted in. I met a lot of interesting people — investors, developers."
He added:

"The crypto community is really full of an eclectic group of people."
Wright interviewed Solana Foundation head of strategy Austin Federa at the conference and met with a group of "scrappy" hackers who found a comfortable place to sleep thanks to the organizers behind Jessy's Hacker House. Takala also served as moderator on a panel at IoTeX's side event on March 3.
"It was just a bit overwhelming for me, for the most part, as someone who had never been to ETHDenver," said Wright. "There was Interop — you needed a different badge to get in there — there was WalletCon going on, on March 1, and there was Security Day, both by Denver's train station downtown."
Check out Decentralize with Cointelegraph and other podcasts from Cointelegraph — including Crypto Trading Secrets, Hashing It Out, The Agenda and NFT Steez — on Apple Podcasts, Spotify, Google Podcasts or TuneIn.