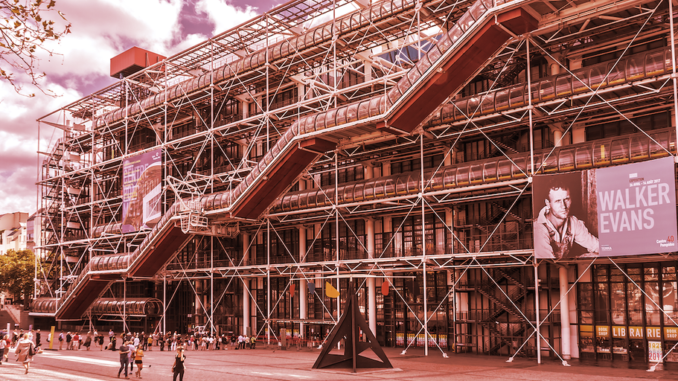 NFTs are coming to the epicenter of the Parisian art world. 
On Friday, Centre Pompidou—home to France's National Museum of Modern Art—announced plans for a new exhibition examining the relationship between art and the blockchain that will feature NFTs from the valuable CryptoPunks and Autoglyphs projects, among works by 12 other digital artists.
CryptoPunk #110 and Autoglyph #25 were both donated to Centre Pompidou and will appear at the museum this spring, as will 16 other NFT works from a global assortment of artists.
The exhibition will mark the first time that the Centre Pompidou has accepted NFTs into its collection, which houses masterpieces by such groundbreaking artists as Vassily Kandinsky, Marc Chagall, Henri Matisse, and Frida Kahlo, among others. Centre Pompidou is the largest modern art museum in Europe.

Le Centre Pompidou fait l'acquisition d'un ensemble d'œuvres traitant des relations entre blockchain et création artistique, dont ses premiers NFT ! 👾Ce sont 18 projets de 13 artistes français et internationaux qui entrent en collection.Plus d'infos 👉 https://t.co/PXL4O2E9vh pic.twitter.com/sNI7EYtK5E

— Centre Pompidou (@CentrePompidou) February 10, 2023
"Seeing CryptoPunk #110 displayed in the Centre Pompidou, arguably the world's most prestigious contemporary art museum, is a great moment for the Web3 and NFT ecosystem, and we're honored to help drive this cultural conversation," Yuga Labs co-founder Greg Solano said in a statement. 
Yuga, which owns the CryptoPunks IP, donated the NFT to the museum through its Punks Legacy Project. That initiative, which seeks to place CryptoPunks in prominent museums around the world, kicked off with a donation of CryptoPunk #305 to Miami's Institute of Contemporary Art in November.
CryptoPunks, minted on the Ethereum blockchain, are one of crypto's most dominant and enduringly popular profile picture (PFP) NFT collections. There are 10,000 CryptoPunks in circulation, the cheapest of which can be bought for 63 ETH, or roughly $95,000, according to CoinGecko. CryptoPunks have routinely sold for millions of dollars a piece, even during the current bear market.
Autoglyphs, meanwhile, are much rarer. The Ethereum-based generative art project from Larva Labs, the original creator of CryptoPunks, features just 512 NFTs in total. The current floor price (or price of the cheapest listed NFT) for that project is a whopping 249 ETH, or just over $377,000. Larva Labs donated the piece to Centre Pompidou.
Despite the gargantuan amount of capital consistently attracted by such "blue chip" NFT projects, some in the art community have derided the medium as lacking artistic legitimacy.
Perhaps for that reason, Yuga Labs—which also created the dominant Bored Ape Yacht Club NFT collection—took Friday's announcement as an occasion to assert the artistic merits of such projects.
"Partnering with Centre Pompidou, one of the most iconic contemporary art museums in the world, signifies that CryptoPunks are rightfully being recognized as an important art movement by the industry," Yuga said in a statement. 
But it remains unclear what function, exactly, CryptoPunk #110 will play in the Pompidou's exhibition. 
"With this new acquisition, it is less a question of taking an interest in the pop cultural phenomenon of 'collectibles' (these collections of images sold as NFTs, such as the Bored Apes or the CryptoPunks), than of exploring the boldest uses of this technology," the museum said in its announcement of its upcoming NFT-focused exhibition. 
The exhibition's curators went on to detail how the NFT space, despite first asserting itself with "homogenous" and "highly publicized" projects like CryptoPunks and Bored Apes, soon gave way to more complex experimentations, which appear to be the exhibition's focus. The exhibition also features NFTs from artists such as Jonas Lund, Rafael Rozendaal, and Jill Magid.
Stay on top of crypto news, get daily updates in your inbox.