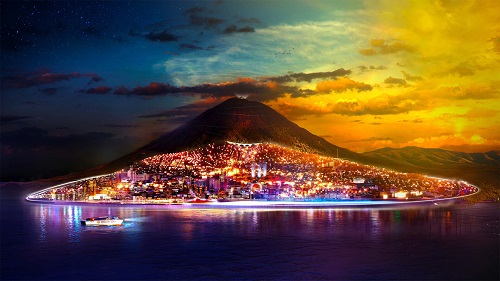 El Salvador is the first country that recognised Bitcoin as legal tender.
Bitcoin City has been recognised as a sustainable and highly efficient project.
El Salvador is building the new city in the country's East, with clean energy entirely sourced from nearby volcanoes.
El Salvador made history when it became the first country in the world to adopt Bitcoin (BTC) as legal tender. The country also announced an ambitious project dubbed 'Bitcoin City' – a move that continues to inspire many other nations and jurisdictions across the world.
Importantly though, and in one of the many positive news around the El Salvador Bitcoin bet, the eco-friendly project Bitcoin City has just received international recognition.
According to a news report by Noticias de Bariloche, Bitcoin City won an award after getting a thumbs up approval from a panel of experts over its architectural design.

The award was given by LOOP, a Costa Rica-based sustainable architecture and design studio. Per the the LOOP Designs Awards 2022 website, Bitcoin City was picked as category winner from a pool of 705 submissions from 56 countries.
Volcano-powered Bitcoin city
EL Salvador's Bitcoin City is a new city project under development in the country's East, and is designed by Fernando Romero Enterprise EE, a Mexico-based design studio. The project features revolutionary urban planning with Bitcoin and nearby volcanoes powering financial investments and everyday activities.
The two volcanoes (Tecapa and Conchagua) will provide clean energy.
"A number of incentives for investors will make this city a reference on how to make a city both efficient and sustainable at the same time," LOOP wrote in a brief description of the project.
As CoinJournal previously reported, building Bitcoin City is expected to take at least ten years.
El Salvador proves critics wrong on Bitcoin bet
On Tuesday, El Salvador president Nayib Bukele slammed international media for their negative reporting on the country since it adopted BTC as legal tender. His comments came as the country repaid in full its $800 million in maturing bonds – despite Bitcoin price plummeting in 2022.
Mainstream media reports had pointed out that El Salvador risked defaulting on the payments if it failed to strike a deal with the International Monetary Fund (IMF). President Bukele slammed the forecasts by "experts" and rating firms for their "lies".
Yesterday, El Salvador demonstrated that the big media, the "experts", the financial analysts and the credit rating agencies, shamelessly lie to the people, their audiences and their clients.

The next time they say anything, remember that. https://t.co/Lb2uDPlYxr

— Nayib Bukele (@nayibbukele) January 24, 2023