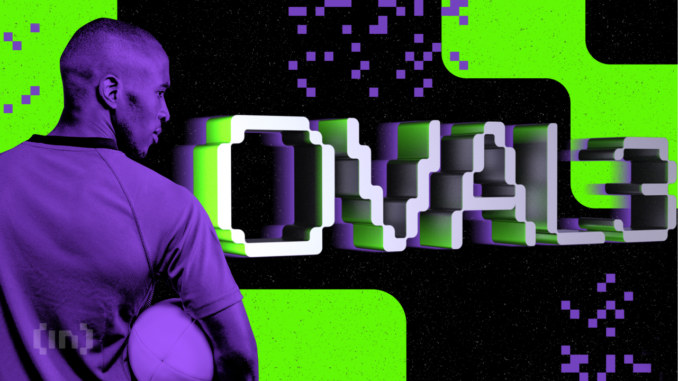 OVAL3, a leading rugby Web3 specialist, has been announced as the exclusive Fantasy NFT Partner of Major League Rugby (MLR). The news comes as MLR, North America's premiere rugby league, begins its sixth season on February 17.
Exclusive Fantasy NFT Partner of MLR
OVAL3 has been working to provide world-class immersive experiences and Web 3.0 engagement to rugby's rapidly-growing North American fanbase. Major League Rugby has experienced growth in every key metric since 2017 and continues to attract new fans to the sport year over year. 
With the 2031 (Men's) and 2033 (Women's) Rugby World Cups awarded to the U.S., the sport is poised for unprecedented North American attention in the years to come.
As the exclusive Fantasy NFT Partner of MLR, OVAL3 plans to take key learnings from its experience in fantasy rugby globally to create MLR's first official fantasy game. The game will link rugby to NFTs and address the codes of today's gaming on a Play & Own model. 

The official MLR Fantasy NFT game is expected to launch at the midway point of the 2023 MLR Season.
Nic Benson, Major League Rugby CEO, said: 

"We are constantly looking for innovative ways to engage with our fans and invite new people to our exciting game. "This partnership with OVAL3 is key to that initiative, and to our efforts to position the MLR among the most forward-thinking sports properties in North America."
Proof of concept
OVAL3 has successfully completed its first Proof of Concept (POC), selling 31 NFT cards with over 1000 bids for a total price of 12 ETH. This accomplishment highlights the immense potential of the intersection between rugby and NFTs, and sets the stage for OVAL3's forthcoming collaboration with Major League Rugby (MLR). 
The success of the POC indicates a strong demand for rugby-related NFTs and further cements OVAL3's position as a leader in the rapidly-growing intersection of sports and Web3 technology.
Learn more about the Proof of Concept here.
The future of OVAL3
OVAL3's future plans will give gamers and fans the ability to build their teams with players from both the French and American leagues. The company is already in advanced negotiations with several other major rugby leagues ready to join the project.
OVAL3 is excited to partner with Major League Rugby and to bring rugby to the forefront of Web 3.0 engagement. The company believes that the intersection of rugby, gaming, and NFTs is the future of sports fandom and is eager to bring this vision to life for MLR's fans.
Tony Bouquier, OVAL3 CEO, said:

"We are very proud to have been chosen by Major League Rugby. After the Ligue Nationale de Rugby (French League), this is the second league to join us, validating our concept and confirming the relevance of our project. Our ambition is to sign, in the near future, new leagues, not only in Europe but also on other continents, in order to offer a never before seen and ever richer experience."
OVAL3 is a global leader in the intersection of rugby and Web3. The company has been at the forefront of innovation in fantasy rugby and has developed a deep understanding of the sport's fans and their needs. OVAL3's platform is designed to create immersive experiences that bring fans closer to the action and to create new revenue streams for rugby leagues around the world.
The partnership between OVAL3 and Major League Rugby represents a major step forward for the intersection of rugby, gaming, and NFTs. OVAL3's expertise in fantasy rugby and Web3 will bring a new level of engagement to MLR's growing fanbase, and the launch of the official MLR Fantasy NFT game is highly anticipated. 
With plans to expand into other major rugby leagues around the world, OVAL3 is well-positioned to become the global leader in the intersection of rugby and Web3.
Launch of Alpha marketplace
Exciting news for NFT enthusiasts as the Alpha marketplace is set to launch in just 2-3 weeks, with the first batch of alpha testers onboarded for access to the first auctions during the first week. This marks a major milestone for the platform, which has been eagerly anticipated since its announcement. 
Furthermore, the Alpha Game is scheduled to go live in 2-3 months from now, providing another opportunity for users to experience the platform's unique offerings. As the launch date draws closer, many are eager to see what the Alpha marketplace and game have in store for NFT collectors and enthusiasts alike.
About OVAL3
OVAL3 is a brand that was established in 2022 by Bamg Sports, a leading company in the industry that created the popular game Fantasy Rugby World, which has garnered over 40,000 users worldwide. 
The Bamg Sports team comprises distinguished shareholders and associates, including Antoine Dupont, captain of the French rugby team and the world's best player in 2021, ERA2140, a venture studio specializing in Web3 technical development, Markchain, a communication agency dedicated to Web 3.0, and Pyrats Labs, a Web3 startup studio and advisor.
OVAL3's primary goal is to merge the world of rugby with the Web 3.0 world to provide an unparalleled immersive experience for its users.
Links:
Twitter | Discord | Instagram | LinkedIn
Disclaimer
All the information contained on our website is published in good faith and for general information purposes only. Any action the reader takes upon the information found on our website is strictly at their own risk.