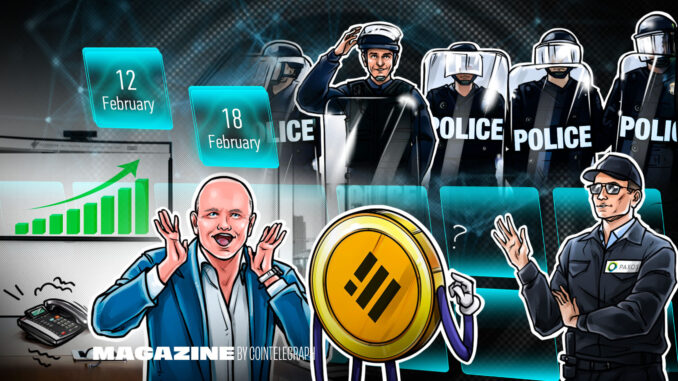 Top Stories This Week
Paxos 'categorically disagrees' with the SEC that BUSD is a security
The United States Securities and Exchange Commission (SEC) has defined the stablecoin Binance USD (BUSD) as a security in a Wells Notice sent to its issuer, Paxos Trust Company. The SEC alleges the organization failed to register BUSD under federal securities laws. The firm, however, "categorically disagrees" with the authority's view, and it's prepared to "vigorously litigate" the matter in the U.S. courts. Also this week, Paxos was given directions from the New York Department of Financial Services to halt the issuance of new BUSD tokens. The department allegedly received a complaint last year from Circle — another stablecoin issuer — claiming that Binance's reserves were insufficient to back BUSD.
SEC sues Do Kwon and Terraform Labs for fraud
The U.S. SEC has also filed a lawsuit against Terraform Labs and its founder Do Kwon for allegedly "orchestrating a multi-billion dollar crypto asset securities fraud." The regulator said Kwon and Terraform offered and sold an "inter-connected suite of crypto asset securities, many in unregistered transactions." It pointed to the firm's now-collapsed algorithmic stablecoin, TerraClassicUSD (USTC) and its connected cryptocurrency Terra Classic (LUNC). The complaint seeks charges for violations of registration and anti-fraud provisions of securities laws.
Federal judge hints at denying Sam Bankman-Fried any internet access as condition of bail
Sam Bankman-Fried appeared in court for the first time in days after using a VPN for allegedly watching football. Prosecutors claim the use of a VPN raised "several potential concerns," after the former CEO contacted potential witnesses in his criminal case earlier this month. Prosecutors want Bankman-Fried to be prohibited from using cellphones, tablets, computers, or the internet, meaning no more League of Legends or other video games. In FTX bankruptcy news, a federal judge approved the release of the guarantors' names for the $250 million bond. Bankman-Fried's criminal trial is scheduled to begin in October, while FTX's bankruptcy case is ongoing.
El Salvador to open a 'Bitcoin Embassy' in the United States
A "Bitcoin Embassy" is being opened by El Salvador in the United States. Ambassador Milena Mayorga said the country's representative office and the state of Texas will work on new joint projects to promote Bitcoin adoption. In another headline, the International Monetary Fund advised El Salvador to reconsider plans to increase Bitcoin exposure, citing the "speculative nature" of crypto markets, as well as its impacts on fiscal sustainability and consumer protection. Bitcoin has been a legal tender in El Salvador since 2021.
Celsius chooses NovaWulf's bid to exit from bankruptcy
Bankrupt crypto lender Celsius Network has chosen NovaWulf Digital Management as the sponsor for its proposed Chapter 11 restructuring plan, which will see the investment advisory firm take over the operations of a new company, with most former Celsius customers estimated to recover up to 70% of their funds. The proposed plan has the support of the unsecured creditors' committee and would see the creation of a new public platform called NewCo fully owned by Earn creditors. Six firms placed bids on Celsius crypto assets, including Binance and Galaxy Digital.
Winners and Losers
At the end of the week, Bitcoin (BTC) is at $24,372, Ether (ETH) at $1,694 and XRP at $0.39. The total market cap is at $1.11 trillion, according to CoinMarketCap.
Among the biggest 100 cryptocurrencies, the top three altcoin gainers of the week are Filecoin (FIL) at 51.13%, Internet Computer (ICP) at 46.86% and Astar (ASTR) at 43.80%.
The top three altcoin losers of the week are The Graph (GRT) at -1.62%, Nexo (NEXO) at -1.49% and UNUS SED LEO (LEO) at -1.05%. 
For more info on crypto prices, make sure to read Cointelegraph's market analysis.
Read also
Features
You can now clone NFTs as 'Mimics': Here's what that means
Features
This is how to make — and lose — a fortune with NFTs
Most Memorable Quotations
"Paxos categorically disagrees with the SEC staff because BUSD is not a security under the federal securities laws."
Paxos Trust Company, issuer of the Binance USD stablecoin
"But regulation by enforcement that does nothing to help consumers and drives innovation offshore is not the answer. Getting it right on staking matters."
Paul Grewal, chief legal officer at Coinbase
"The SEC has done more to confuse rather than clarify the application of U.S. securities laws."
Kristin Smith, CEO of Blockchain Association
"As an industry we have the power and responsibility to prevent digital assets becoming a haven for money launderers and sanctions evaders."
Simone Maini, CEO of Elliptic
"Make no mistake: Based upon how crypto platforms generally operate, investment advisers cannot rely on them as qualified custodians."
Gary Gensler, chairman of the U.S. Securities and Exchange Commission
"When I look at the price action, when I look at the excitement of the customers calling, the FOMO building up, it wouldn't surprise me if we [Bitcoin] were at $30,000 by the end of the quarter."
Mike Novogratz, CEO of Galaxy Digital Holdings
Prediction of the Week 
Bitcoin metric prints 'mother of all BTC bullish signals' for 4th time ever
A Bitcoin price indicator has flashed green for just the fourth time ever this week in a major warning to bears.
According to crypto market analyst Mohit Sorout, the dollar cost average indicator was now "suggesting a raging bull market." Its buy signals are rare, with Sorout seeing just three throughout Bitcoin's history, each precluding serious BTC price upside. 
"Today marks the 4th time this signal is suggesting a raging bullmarket," he wrote in comments, describing the event as "the mother of all $btc bullish signals."
FUD of the Week 
Circle squashes rumors of planned SEC enforcement action
Circle, the company behind the USDC stablecoin, has been hit by fear, uncertainty, and doubt after a Fox Business reporter said on Twitter that the company was ordered by the U.S. securities regulator to stop selling USDC, claiming it is an unregistered security. The rumors were later denied by Circle's chief strategy officer, although fears of regulatory action against stablecoin issuers are still running high after Paxos, the issuer of the stablecoin Binance USD, received a Wells Notice for allegedly failing to register the offering under federal securities laws.
Korean e-commerce exec accused of accepting LUNA for shilling Terra Labs
South Korean prosecutors have requested an arrest warrant for the former CEO of Tmon, a Korean e-commerce platform, for allegedly receiving billions in bribes from Terra's co-founder, Daniel Shin, in return for promoting Terra's token (LUNC) as a payment method. The e-commerce company reportedly advertised the token as a safe asset, therefore increasing its price, before selling it with a multibillion return.
Sen. Warren vows reintroduction of AML bill that extends to DAOs and DeFi
Vocal crypto critic U.S. Senator Elizabeth Warren will reintroduce to Congress a bi-partisan Anti-Money Laundering (AML) bill that covers "decentralized entities" such as decentralized finance protocols and decentralized autonomous organizations. According to Warren, the crypto community wants decentralized entities running on code to be exempt from AML requirements.
Best Cointelegraph Features
Can you trust crypto exchanges after the collapse of FTX?
Experts say that most CEXs only offer basic contractual protection in the event of a mishap, but things are improving.
Bitcoiner Simon Dixon on bankruptcies and Elon Musk: Hall of Flame
Dixon recovered from "deep debt" thanks to Bitcoin; he accidentally became the "Chapter 11 guy"; and Elon Musk crashed his Twitter Space.
Asia Express: China Telco's crypto SIM, Korean exchanges in turmoil… and more
South Korean exchanges plagued by scandals, China's new blockchain SIM and Square Enix selects Polygon for its upcoming NFT game.
Subscribe
The most engaging reads in blockchain. Delivered once a
week.