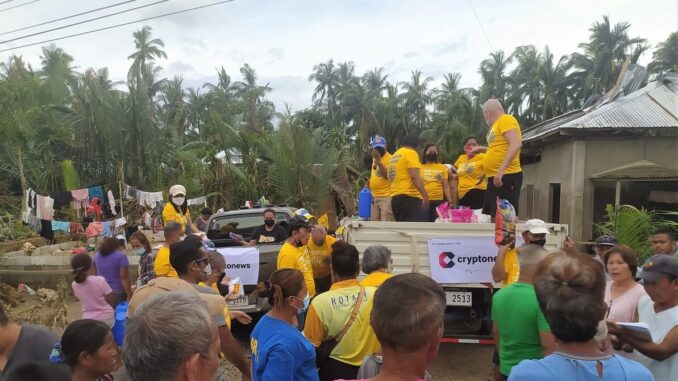 "Yesterday, since there was no power, I took the time to visit my relatives in one of the badly hit towns. It's sad to see people losing their houses, family members, and livelihood. If you have time to search Bais City and Manjuyod in Negros Oriental, you'll see the devastating aftermath. It's like the apocalypse," Mao, a Philippines-based member of the Cryptonews.com team, wrote us in a message this Christmas week. 
Last week, Super Typhoon Rai, known locally as Odette, struck the Philippines, killing at least 375 people and sending around 400,000 people running for safety. Hundreds of people were injured and dozens are still missing. 
"I brought 10 gals of drinking water to some of my relatives and also a few canned goods and instant noodles. The government can't accommodate everyone so the needed help isn't there yet," Mao wrote. "I have exhausted my funds for Christmas to help out but it's still not substantial." 
Multiple organizations and individuals are already offering help. For example, a Filipino co-owned play-to-earn gaming guild, Yield Guild Games, was able to amass over P12.5m (USD 250,000) in donations for the victims of Odette, per rappler.com.

Cryptonews.com has also set up bitcoin (BTC), ethereum (ETH), and tether (USDT) addresses for donations, which will be used to purchase goods and services to help those in need. 
If you would like to donate, please send crypto to the addresses found below. We will document how much was donated and how it's being spent. 
Every satoshi or gwei would be much appreciated! 
BTC address: bc1q479mz7z3fg3jr0ehq9l5ztlkkne8pqgp5d9lwa
ETH address: 0xee994DE72549Da93dfFC7BABDF4E8101Ea654d9c
USDT (TRC20, or Tron based) address: TLjM2xNk98vkHW81o42sa28wU4sr1mQJ8C
Thank you!