Leading cryptocurrencies started 2023 with positive momentum
Bitcoin, Doge, Ripple, and Ethereum move in a direct correlation
Ethereum has more room to rally
The cryptocurrency market started  2023 with positive momentum. As a result, all leading cryptocurrencies gained against the US dollar, and the so-called "crypto winter" from 2022 vanished.
Bitcoin is clearly the leader. It bounced strongly from the 2022 lows after losing about -65% of its value. The direct correlation between Bitcoin and the rest of the cryptocurrency market is well known, but something interesting has happened since the start of 2022.
More precisely, the correlation weakened. Sure enough, other cryptocurrencies follow when Bitcoin enters a bullish or bearish market. Only this time, the extent is different.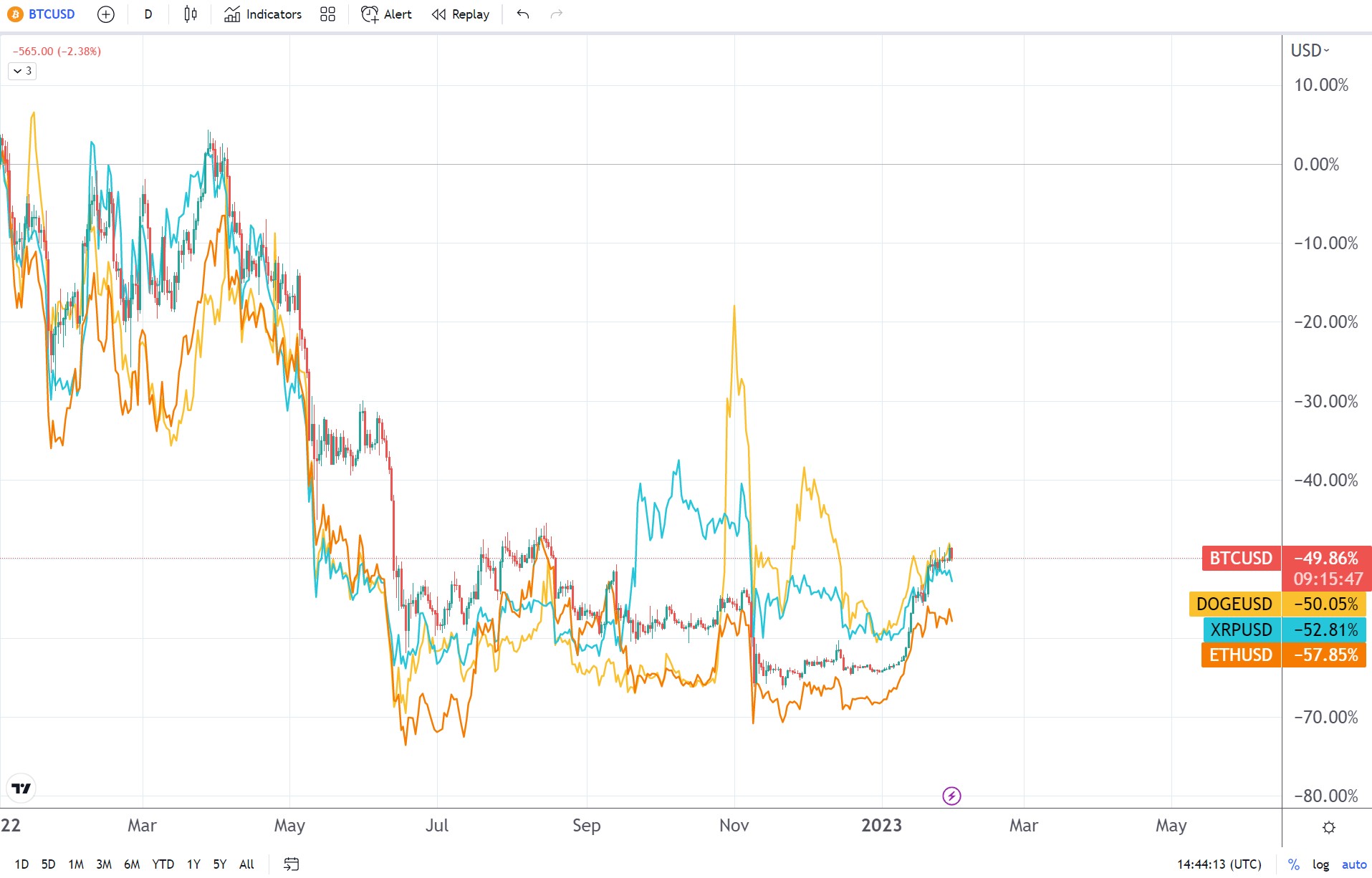 ETHUSD chart by TradingView
Ethereum lags behind
The chart above shows the four leading cryptocurrencies and how they performed against the US dollar – Bitcoin, Doge, Ripple, and Ethereum. The correlation is obvious, but Ethereum lags.
In 2022, Ethereum fell by the most. It lost over -70% of its value before the recent rally.
While it did rally in 2023, following Bitcoin's lead, it lags behind. More precisely, while Bitcoin, Doge, and Ripple moved more or less in a synchronized fashion, Ethereum bulls fell behind.
The recent rally reduced the cryptocurrencies' losses against the US dollar, but not to the same extent. For instance, BTC/USD is now -49.86% lower than it was in January 2022. However, ETH/USD did not recover as much, and it is down -57.85% over the same period.
In other words, if one believes that the US dollar's weakness continues, then it might be appropriate to bet on Ethereum's rallying more than Bitcoin, Doge, or Ripple.
On Wednesday, the Federal Reserve of the United States is about to announce its interest rate decision for the first time in 2023. A press conference will follow the announcement, and the US dollar's volatility will reach extreme levels.